This evening Frodo and Primo discussed the following deep philosophical question: If each member of our family was a cartoon character, who would they be? Here are their conclusions:

Frodo - Mike Wazowski (from

Monster's Inc.

)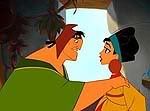 Me - Pacha's wife, Chicha (from

The Emperor's New Groove

)


Primo - Squirt (from

Finding Nemo

)


Secondo - Egghead, Jr. (from the Foghorn Leghorn

Loony Tunes

)


In case you have no idea who Egghead, Jr. is, watch the video below.











Terzo - Linus (from

Peanuts

)


Quarto - Calvin (from

Calvin and Hobbes

)



So, if you were a cartoon character, who would you be?