Our living room is small. We have always had small living rooms. Thus, we have developed a Christmas tradition of two trees. One in the living room (this is the "formal tree" with the pretty crystal, china and glass ornaments that looks all 'grown up' when it is decorated) and one in either the play room or the kids' bedroom (this one has the kids' ornaments, paper chains and popcorn strings). We had to replace our living room tree last year when our basement flooded and ruined our old tree that was stored down there. This year, we have to replace the kids' tree because it just plain-old broke.
I took Primo out to Wally World with me yesterday and went tree shopping. We looked through the trees on display then headed off down the aisle where the tree boxes are kept. There we found a boxed set of three "spruce" trees of various sizes (4', 3' and 2') that we hadn't seen in the display area... this should have been our first clue. We decided these would be cute in the playroom and would give each of the older kids thier own tree to decorate as they wished. Primo promptly offered that since her and Secondo's trees were bigger than Terzo's they would let Quarto put his ornaments on thier trees. Who could reject such harmony and Christmas spirit? We grabbed a box off the shelf, and Primo carried it to the checkout... this should have been my second clue.

As the kids were taking their baths last night, I decided to set up their trees as a surprise so that they could ooh and aah over them before bed then spend this afternoon after church decorating them. I opened the box and pulled out the first little tree. It had a very cute, wooden base... very rustic. I liked it already. I carefully unwrapped the cord to free the top then attempted to insert the top onto the lower section. This took a bit of muscle, but I got it on... and the tree looked terrible. Secondo comes in and squeels, "Yea! The trees!" After looking at it for a minute, she adds, "Maybe it will look better when you fluff it." So I begin fluffing. This tree refused to be fluffed. I thought maybe it was the tree, so I grabbed one of the smaller ones, muscled it together, and began to fluff... in vain. In the meantime, Primo had come in and asked to try the smallest tree. No amount of fluffing, bending, twisting, or grunting got those things to look like anything but pieces of wood with wire stuck with bits of green paper.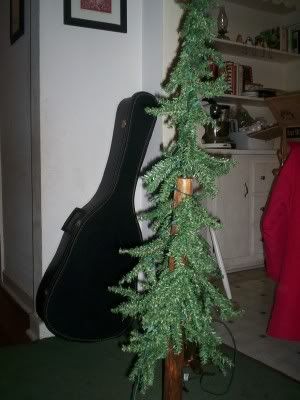 Aren't these the saddest excuses for Christmas trees you've ever seen?!
I don't have the patience or compassion level of Charlie Brown, but I do have a receipt. These sorry things are going back to the store tomorrow, and we will find a different tree for the kids.
I think that to find the "perfect" tree, I would have to use a real one, and although I would like a real tree, I have to face reality and admit that I am too lazy to water one. Plus, I have a three year old. If we had a real tree (especially one I wasn't watering), my house would look like Toddler Chainsaw Massacre. ("There are needles and sap everywhere! Oh, the humanity!") That said, I have to agree with the poet, Joyce Kilmer, only God can make a tree (especially one that looks good with Christmas lights and paper chains).

I THINK that I shall never see
A poem lovely as a tree.
A tree whose hungry mouth is prest
Against the sweet earth's flowing breast;
A tree that looks at God all day,
And lifts her leafy arms to pray;

A tree that may in summer wear
A nest of robins in her hair;
Upon whose bosom snow has lain;
Who intimately lives with rain.
Poems are made by fools like me,
But only God can make a tree.
- Trees by Joyce Kilmer