Primo and Secondo joined a Homeschool Square Dancing class in October, an
d a large number of them have been focusing on the competition since late November (Secondo didn't participate in the competition). The group sent three squares to the competition. Their two lower division teams received blue ribbons and their upper division team received a red ribbon. There were sixty squares entered in all. That's 480 dancers! That's a lot of Do-si-dos! And a lot of dust. The competition was held in the Large Arena... the same place where we saw a cattle competition a few hours before. It smelled like a cattle stampede, but what else do you want at the fair?!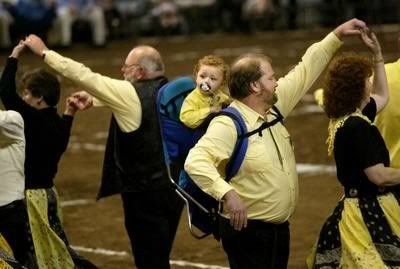 There were dancers there of all ages... from infants through seniors. The
local paper
caught this little guy dancing with his dad during one of the exhibition dances, and he wasn't the littlest. His little sister, only a few months old, was strapped to Mom in a front pack. This looks like the best ride at the fair, doesn't it?! And talk about a workout for mom and dad!
Primo can't wait until next year... when she hopes there will be enough boys so that she can dance in the girl's position and wear a fluffy skirt! In the meantime, we can listen to their call CD and reminisce. Now all we need are two more kids, and we've got a square!