I like Saturdays. Saturday means that I get to sleep in and Frodo makes a big breakfast while keeping the brood contained and entertained downstairs. This morning he made a family favorite for breakfast, and I thought I would share the recipe since it is something that kids (of all ages) love to help make, watch bake... and ea
t!

Volcano Pancake

6 eggs
1 cup milk
1 cup all-purpose flour
1/2 teaspoon salt
1/2 cup butter or margerine, melted
1/4 cup confectioner's sugar

or

syrup

Preheat oven to 400 degrees. In bowl, beat eggs. Add milk, flour, and salt; stir until smooth. Pour butter into 13x9x2 baking dish. Add batter. Bake at 400 degrees for 30-35 minutes.

Do not open the oven door for first 30 minutes of baking but don't forget to keep the oven light on so the kids can watch it grow
.

It is done when a knife inserted in the center comes out clean. Sprinkle with sugar or drizzle with syrup and serve immediately. Serve with fresh fruit to help stop the cholesterol in it's tracks... or at least make yourself feel better.

These are Frodo's results from this morning (he made a double batch):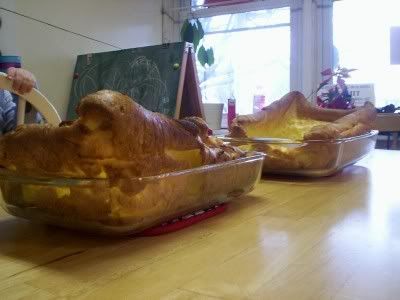 The pancake in the front had an eight inch peak and the one in the back puffed up almost a foot! It was amazing... and so yummy.