Photo Credit: Justin Smith @ World of Juice
So fine a show was never seen
At the great circus on the green;
For every kind of beast and man
Is marching in that caravan.
- from Young Night Thought by Robert Louis Stevenson
It cannot be a coincidence that it is National Poetry Month and I'm hosting the Carnival of Homeschooling this month. I mean a homeschoo
ler
can never resist the chance to turn something into a learning opportunity. So, prep
are
a nice cup of
tea, find a comfy spot, call the kids to come read over your shoulder, and let's away to the Carnival!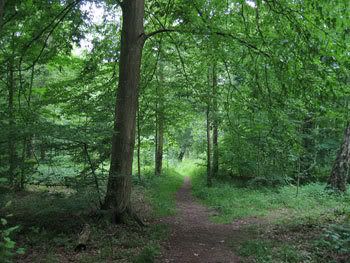 Photo Credit: from lekowicz.com
Two roads diverged in a wood, and I –
I took the one less traveled by,
And that has made all the difference.
- from The Road Not Taken by Robert Frost
Mother Crone (Mother Crone's Homeschool) reminds us that just because we aren't bringing home a fiscal paycheck doesn't mean we haven't chosen a rewarding career by choosing to homeschool, so please stop trying to find the homeschooling mom a career.
When looking for some practical advice while planning for the next school year, Kristina (at home, on fire) checked out the government school guidelines and ended up with a "good laugh instead of a good path".
Each homeschool family chooses homeschooling for a different reason. Jeanne (At A Hen's Pace) reminds us to look back and remember why we chose this path. Meanwhile, others, like Phil (A Family Runs Through It) only have to look back to yesterday to find a newly discovered benefit to homeschooling. Rusty (New Covenant) homeschools not only because of the superb academic education that his children will receive but also because of the cultural literacy that will be gained.
MFS (Mental Multivitamin) isn't phased by "how woefully under prepared Suzy Homeschool's kids are, how inarticulate Peggy Publicschool's kids are" because she isn't homeschooling those kids… she's homeschooling her own. Those are the only three students she's worried about.
Photo Credit: BBC News
Questions, directions warnings and advice,
Flowed in upon me, from all sides; fresh day
Of pride and pleasure! To myself I seemed
A man of business and expense, and went
From shop to shop about my own affairs,
To Tutor or to Tailor, as befell,
From street to street with loose and careless mind.
- from Residence at Cambridge by William Wordsworth

Whenever a celebrity declares that they are joining the homeschooling ranks, homeschoolers converge to analyze whether or not this is the person they want as the new homeschooling poster-boy. John and Elizabeth Edwards are no exception. Susan (Corn and Oil) shares her thoughts on the Edwards' announcement, and Spunky, guest-blogging at Home Where They Belong, wonders whether what the Edwards are planning for their children's educations can actually be categorized as homeschooling (among other questions).
Photo Credit: Smoke Wade @ wacobelle.org
STILL sits the school-house by the road,
A ragged beggar sunning;
Around it still the sumachs grow,
And blackberry vines are running.
- from In School-Days by John Greenleaf Whittier
The Palm Tree Pundit shares photos of her new Sugar Shack School. Be careful. After looking, you're going to want one, too.
Our children may not darken the doorstep of the local government school, but Alasandra wants to make loud and clear why homeschoolers should care about public schools.
Many homeschoolers are opting for the virtual schoolroom, but Barbara Frank warns us that signing our kids up for e-school will probably mean signing away our educational freedom.
Our home is our schoolhouse, and an organized space makes for better learning. Elena (My Domestic Church) has some guidance on creating binders to help us manage our homes and, thus, our schools.
Jill glances Through The Windowpane with her children to remind herself (by learning from her children) to appreciate the little gifts God sends us.
Periodically, we venture out from our schoolhouses/ homes and then our children, like Lizzie's (A Dusty Frame), give away our secret identities.
We may see how all things are,
Seas and cities, near and far,
And the flying fairies' looks,
In the pictyure story books.
-from Picture-books in winter by Robert Louis Stevenson
As our children approach school age, we begin researching our different curriculum choices. The Old Schoolhouse Magazine has developed a new column to help make that easier... and they want your help.
Henry (Why Homeschool) reminds us to not pressure our kids in teaching them to read early if we want them to be voracious readers as they grow older... and he's got the overflowing library bag to prove it.
When it is time to begin to teach our children to read, Malissa (Malissa's Merry-Go-Round) has a great list of phonics resources for us to choose from.
Just because our children are learning to read on their own doesn't mean we should stop reading aloud to them. Laurie (
Trivium Pursuit
) shares
one of her family's favorite read-alouds
.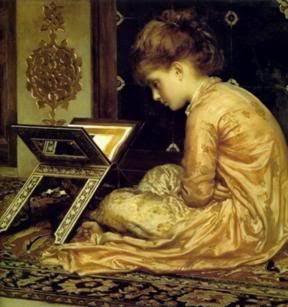 Picture Credit: Study: At a Reading Desk by Lord Frederick Leighton
Old books to read!
Ay, bring those nodes of wit,
The brazen-clasped, the vellum writ,
Time-honored tomes!
The same my sire scanned before,
The same my grandsire thumbed o'er,
The same his sire form college bore,
The well-earned meed
Of Oxford's domes
- from A Winter Wish by Robert Hinckley Messinger
Many of us know in our minds that if we require our children to do narrations of what they read and hear, it will help them retain information and become better writers and thinkers. However, actually carrying through can be very daunting. The Deputy Headmistress of
The Common Room
provides us with
some practical tips
to help lessen our burden.
Jenny (
Little Acorns Treehouse
) guides parents of advanced readers in
how to choose age-appropriate books without sacrificing difficulty
.
Home is Where You Start From
's Jenny gives us
a review of the book that inspired the movie
Duma.
They have taught you to see
Only a mean arithmetic on the face of things,
A cunning algebra in the faces of men,
And God like geometry
Completing his circles, and working cleverly.
- from A Spiritual Woman by D.H. Lawrence
Who wants - (hush! hush!)
A box of paint?
'T will give a blush
Yet leave no taint:
This rose with natural rouge is fill'd,
From its own dewy leaves distill'd.
- from Songs from "Sylvia; Or, the May Queen." III. Nehon's Song by George Darley
Sometimes we hit a subject or topic that we don't feel we are showing our children the proper passion for. Barb (
The Heart of Harmony
) used to ask herself, "
Is that art?
" when viewing Jackson Pollack's work, but is now learning a new appreciation through teaching.
SCIENCE long watched the realms of space,
A planet's devious path to trace:
Convinced of heaven's harmonious law,
"A World Beyond" Leverrier saw.
- from A World Beyond by Nathaniel Ingersoll Bowditch
When it comes to science, sometimes it's best to abandon the textbooks, reminds
Summer Minor
, and
just go outside and get dirty
. And if you love using primary sources whenever possible,
like me
, then you'll admit that
nature is the ultimate primary resource
when it comes to science.
When you come back inside from star-gazing, Patti (
All Info About Homeschooling
) has some
great resources for upper elementary and middle school students to learn about the planets
.
My parents thought that I would be
As great as Edison or greater:
For as a boy I made balloons
And wondrous kites and toys with clocks
And little engines with tracks to run on
And telephones of cans and thread.
- from Walter Simmons by Edgar Lee Masters
We all know that each of our children is an exceptional student... and person. That doesn't change when we have a child with special educational needs. Elishiva (
Ragamuffin Studies
) reflects on
a series of stories aired by ABC about Asberger's Syndrome
and compares them to her own experience educating her AS son.
Gary & Kathy (
HomeschoolBuzz
) share a video of their exceptional team of homeschoolers...
an all-homeschool team for the F.I.R.S.T. Lego League Robotics competition
.
Wise parents, like Rachel (
Inklings
), know that our children's exceptionality depends a lot on how we raise them -
which often requires our saying "no"
.